Whether your house is nestled in a beautiful wooded landscape or set in the suburbs with just enough trees to offer relief from sunny days, squirrels can present a problem. If you've noticed signs of squirrel infestation on your property, either visual daytime sights and sounds, gnawed wood leading into a garage or attic area, or food and nesting signs, homeowners should act quickly to control tree squirrels. If left unchecked, your squirrel population can prove to become a challenging task, when these pesky rodents leave their natural surroundings and homeowners have squirrels in the attic.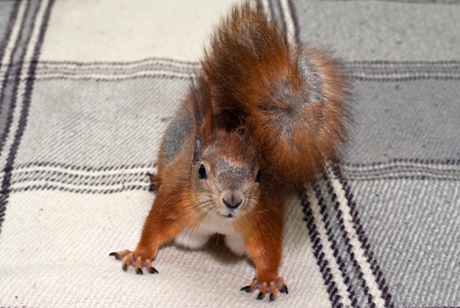 You may wonder how these squirrels invaded your home, with their constant activity of jumping, chirping and scattering about. Basically squirrels have extremely strong claws and teeth with the ability to pull apart slate roofs or chew right through sturdy wood and shingles. If you want to win the game against these invading rodents, hiring an expert in removing squirrels from attic may be the best option. In the meantime consider these homeowner prevention and removal tips to prevent damage to your home and maintain your peace of mind.
Preventing Squirrels From Entering Your Home
● Inspect and repair any holes greater than two inches which are large enough for squirrels to start chewing on to gain access. Finding the squirrels entrance and exit points are crucial to solving the problem of squirrels in the attic. Also, cover your chimney with mesh or a chimney cap.
● Remove bird feeders from roof line and cover all garbage cans with secure tops. Removing sources of food means squirrels will look to nature for their daily feeding.
● Remove tree limbs within eight feet of your home, which gives squirrels access to your roof, easily scampering back and forth.
● If possible, reduce the squirrel population by not planting any nut-bearing trees such as hickory and oak trees.
● If power lines running near your roof are giving access to squirrels, consult a power professional to re-route electrical cables.
Removing Squirrels
● When removing squirrels from attic, setting one way doors is the first choice. Consult a professional wildlife control technician.
● Setting trap can be a option but be sure it is not baby season before you take the mother away from her little ones.
● Install one way squirrel doors at entry points to the attic. Once the wildlife technician has squirrel proofed your home there is no need to worry about them gaining entry back into your attic
● Some repellents discourage squirrels from returning. Look for commercial products or soak rags in ammonia and locate them in the attic.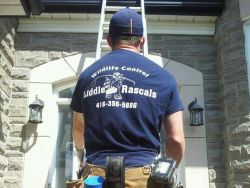 If you require the assistance of professionals to assist in removing squirrels from attic, contact Liddle Rascals at 416.356.5886. We offer humane wildlife removal in Toronto, North York, East York, Scarborough, Markham, Thornhill, Vaughan, Richmond Hill, Ajax, Pickering and Whitby., Canada area. We rely on our many years of removal services as the best solution for your home pest problems.
---
We remove squirrels from attics in Toronto or the Greater Toronto Area, contact Liddle Rascals Wildlife Control. We offer
squirrel removal services
that are safe and humane for both the residents and the animals in question. Our services include a thorough home inspection and advice on repairs, remedies, and prevention.
Expert Skunk and Wildlife Removal in the Greater Toronto Area
We are available 24 hours a day, seven days a week.
Call us at (416) 356-5886 or contact us online.